Best Direct Drive Garage Door Openers To Get In 2022 Reviews
As we know, it is quite a challenge to find the best tools that are worthy of your hard-earned money. But, with a reliable source, it isn't impossible.
If you read this article, you can be sure to check out one of the best tools available today.
In this article I will describe you Direct drive garage openers Features, Technical Specifications, and other details, and why it is one of the desirable products on the market.
Direct Drive Garage Door Opener
About The Brand Direct Drive
Originated from Germany, Direct Drive openers are sold in the DIY market by the brand Direct Drive and Sommer which is the leading brand in Europe with over 30 years of experience developing cutting edge products.
Price Range Of Direct Drive Openers
The price range of Direct Drive Garage Door Openers is relative to competitors on the market. What sets it apart from others is that you can install it yourself, and thus save money intended for installation. According to its features, it is competitive amongst the other top-of-the-line garage door openers.
Where To Buy Direct Drive Door Openers?
You can find it on the official Sommer's official site, although I would strongly recommend buying it od Amazon.com. The advantage of buying it on webshop like Amazon are plenty of customer reviews, and easier price comparison with other competitors, as well as many discounts.
Warranty And Customer Service
Direct Drive provides a lifetime warranty on the entire opener, the whole operating system, and all parts associated with Direct Drive as well as a 2-year warranty on all accessories. The warranty information must be filled out within 14 days of installation. Customer Service is very approachable, and according to customer reviews, very quick and helpful.
Best Direct Drive Garage Opener Reviews
Direct Drive 1042v003 Garage Door Opener
Extremely quiet garage door opener
Unlike the many other garage openers, Direct Drive uses innovative technology with only one moving part. Its mechanism smoothly glides along the chain, with no lubrication or maintenance needed. It is strong without the usage of loud chain drives, but with fewer moving parts. Quieter than belt drives, and it makes no vibrations, which is very appealing if you have living spaces above the garage. The stationary chain is located in a solid steel rail.
Easy to install
Because of the very detailed installation kit, it is very easy to install. The instruction manual is very easy to understand. If you still find difficulties, you can call the customer support helpline. Also, if you don't want to struggle yourself with installing the garage door opener, you can call for a professional installer.
Secure rolling code technology and rail assembly for 8ft door height
No additional extension kit is required, since it is a suitable length for most of the garage doors, from 7 to 8 feet tall.Innovative secure rolling code system generates a new code or password every time when you use your remote.
Features
Rail for 7 ft. – 8 ft. door height
Includes 2 x 2-button remote transmitters
Interior wall station
Homelink compatible
Wireless keypad
Other Direct Drive Garage Door Opener Versions
Direct Drive 1042v004 Garage Door Opener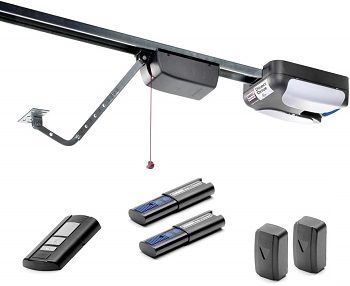 This model has the same features as the previous one, but it is slightly different. This model is a few pounds lighter than 1042v003. When it comes to batteries, it uses 2 Lithium-ion batteries and not the 2 CR2 batteries. Both come included. It comes with wall mounting hardware.
Direct Drive Parts And Accessories
All parts and accessories have a 2-year warranty. Use genuine manufacturers' parts, as others may not work or fit rightly. Easy to replace. Parts you can buy extra are Motor carriage cover, door arm, motor carriage, safety beam kit, and ceiling bracket. The addition to the garage opener mechanism is 2-button remote control. Other accessories you can buy are various wireless keypads, transmitters, extension kits, receivers, etc. Good alternative for the people who would like to save money on garage door lifting mechanism. It can be used on higher garage doors. It contains 1 chain keeper, 26' hand chain, 2 shaft collars and a 1/4″ key. Minimum offset from wall needs to be 5 3/8". Direct mounting to the garage door.
Direct Drive Garage Door Opener Manual And Instructions
All of the products from Direct Drive comes with very detail installation and operating manual. Instructions are very precise and detailed and please read it carefully.  They come in English, French and Spanish language. If you want to check them online, click on Direct Drive Garage Door Manual.
Conclusion: Why Is Direct Drive Garage Door Opener Worth Of Your Money
Its mechanism makes it one of the quietest, smoothest and most elegant garage door openers on the market. Installation is easy with detailed instructions and video tutorials online. Requires little to no maintenance.
If you want to check out different brands of best-rated garage door openers , please read more on this post. Here you can read about the highest rated garage door openers. For more extremely quiet garage door openers click here . If you are interested in keychain garage door openers, read this